Vehicle Interface module with amplifier
ACTIA is offering various range of peripherals to enrich functionalities or make systems cabling and maintenance easier. They are coupled to ACTIA's IHMI range to offer modular solutions to system operators & value added resellers.
Scalability & sustainability
ACTIA interface boxes have been designed to simplify installation and maintenance, and will revolutionize your embedded projects. Connected to an ACTIA computer, the interface box enhances the system, offering functions for scalability and sustainability. The active interface is a customizable module that simplifies software development and projects adaptations.
Various Connection Boxes available (PBDI/C, PDB Truck, PDB mini) aims to extend the number of I/O and interfaces such as audio, tachograph, CAN, etc.
Simplify installation and maintenance for a better system sustainability.
Modular part of your project.
Quick to develop a new interface box to fit your next project and reduce Time-to-market.
Vehicle Interface module with amplifier detail
Various interfaces according to box choice: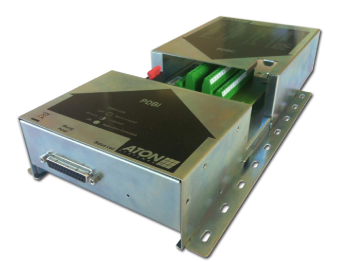 For further inquiries on the service send us your message. Our team is at your service to answer as soon as possible to your questions.