Multi-Application Driver Terminal: an open and mastered solution! ACTIA's platform dedicated to bus applications is rugged and ready for Integration.
The ACTIA ITxPT Architecture enables seamless integration of IT systems in Public Transport by offering an interoperable and standardized IT architecture for on-board vehicle systems, back-office support and user portals.
ACTIA Multiple-Application Driver Terminal (MADT) is the touch sensitive driver console defined by EBSF. Integrated to the dashboard of the vehicle, it gathers the necessary operating information for the driver and the operator. This product is interfaced by Ethernet (IP) link with SAE-IV, ticketing, passenger counting, video surveillance…
Multi-application driver's console: an open solution & mastered
Built on an Intel ATOM™ BayTrail processor, the MADT 7″ console is an open, robust and reliable automotive solution.
Multi-OS compatibility, CPU power and important memory capacity will give you the opportunity to host any third-party application.
The ACTIA's ITXPT functions are portable and compatible with all these ACTIA's modules. Therefore, you can combine them easily to design the most cost effective ITXPT architecture for your specific requirement.
This product is a concentrate of technologies: in option, the MADT offers different means of communication (Wifi, 3G+/4G, Bluetooth).
Compliant with EN13149-7-8-9 (ITxPT) standard, ACTIA MADT participates in the simplification of your embedded installations by offering a real driver display sharing function.
The MADT is an effective solution compliant to Annex 11 and to the PRM regulations. The MADT SDK allows customers to customize the requested driver HMI.
Multiple Application Driver Terminal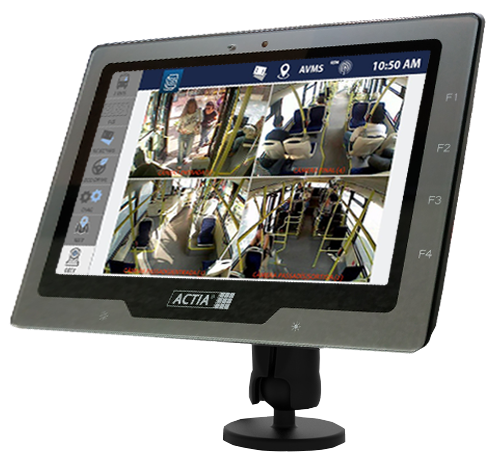 For further inquiries on the service send us your message. Our team is at your service to answer as soon as possible to your questions.