Multi-functions point of sales
Designed on a SOM MPC- BayTrail basis, featuring the latest generation of Intel® ATOM ™ BayTrail processor, the module is intended for fleet integrators and operators alike, using their own ticketing system. It offers « à la carte » and intelligent solutions to add new validation technology.
Compact yet brimming with technology
The most compact validator on the market offering the four technologies for validating or purchasing a ticket: RFID (or radio-frequency identification), by credit card, including contact-free payment, by Bluetooth reader or QR code. Passengers therefore have the option of validating their ticket with their smartphone by automatic detection.
Modular, customisable and « à la carte »
The validation options are available as « à la carte » solutions and can be combined or remain perfectly separate. These ultra-fast ticket validation methods help to smooth the flow of passengers and improve users' travel experience.
Easy integration and interoperability
With Plug and Play technology, the system is fully compatible and interoperable with the vehicle's host solutions. The format facilitates its integration into any type of bus. The removable front panel of the front terminal is designed so that the attachment bracket can be left in the bus during maintenance operations: This reduces downtime (less than one minute).
The smart micro validator terminal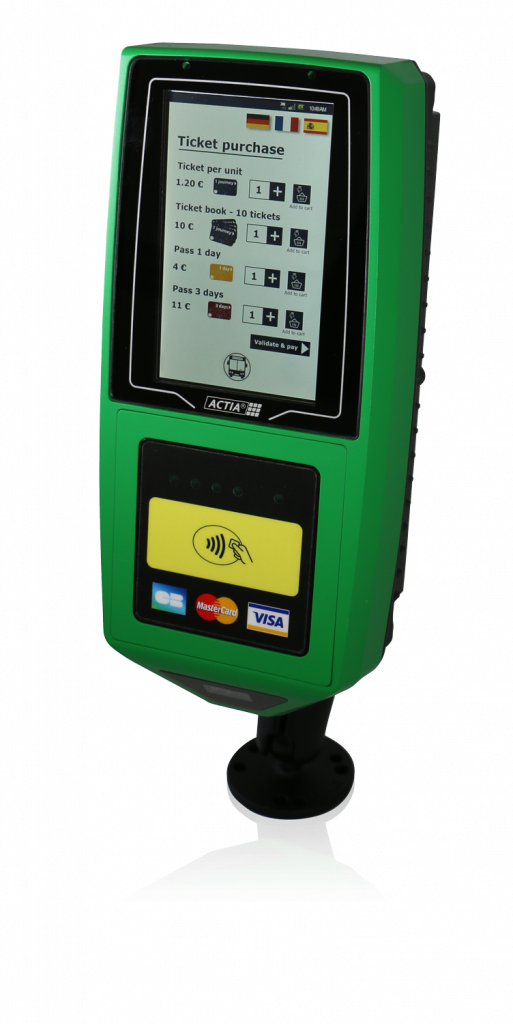 For further inquiries on the service send us your message. Our team is at your service to answer as soon as possible to your questions.