Driver-Aid assists your drivers to operate the vehicle more efficiently saving you money.
Advanced Driver Assistance systems
Driver Aid is a part of the ADAS features it is designed to offer the driver help in certain situations. It is mainly intended to increase safety and comfort. Driver Aid system use radar, video or ultrasonic sensors to monitor the surrounding area in relation to vehicle data such as speed or acceleration. In critical situations such systems warn the driver with a visual, acoustic or haptic signal or provide specific assistance to avoid an accident or to minimise the consequences.
Driver Aid is part of MyACTIAFleet program
Real-time flashing indicators show the driver exactly where improvements need to be made for more efficient driving. Integrated into vehicle systems, it gives accurate warnings.
Integrated into MyACTIAFleet program it provides back-office reports: driver behaviour, fuel and emissions and much more!
In-cab instrumentation to assist the driver to reduce inefficiencies in operating the vehicle
Also available on Actia clusters and Displays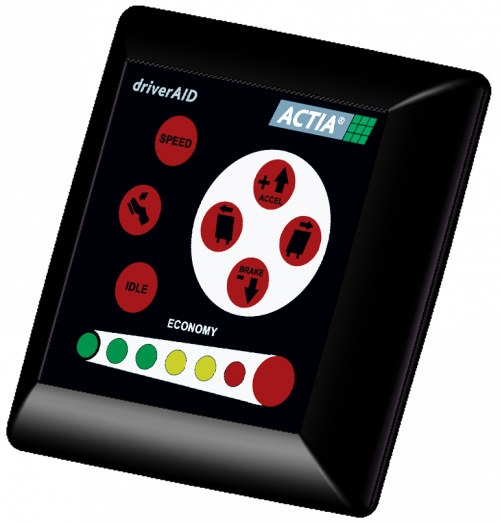 For further inquiries on the service send us your message. Our team is at your service to answer as soon as possible to your questions.